Half Moon Cookie Frosting
MsBindy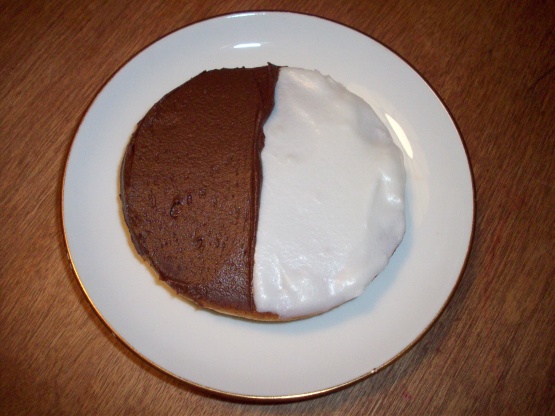 The frosting on a half-moon cookie is the most important part! The frosting should not be of icing consistency, but also not too thick. This recipe will give you just the right amount of frosting for the cookie Half Moon Cookies (White). This recipe is nearly identical to Kitten's recipe 89207, but since I'm changing the preparation instructions slightly to account for the 1/2 white 1/2 chocolate frosting, I am submitting it as a separate recipe. I am indebted to Kitten for coming up with the perfect consitency for the frosting. Thanks Kitten!

The vanilla portion of the frosting was decent, but WOW and again I saw WOW, when you add the cocoa powder and tsp of milk to the rest!!! That was the BEST chocolate frosting I've ever made! It tastes just like from the can, which is usually not a compliment, but I personally love the taste and texture of it!!! Mmmm! Thank you! I also made the cookie using your recipe and that was wonderful too!
Cream the butter in a small bowl.
Blend in the confectioners sugar, vanilla, alternately with the 1/3 cup milk.
Beat until the consistency is creamy, with no lumps!
Remove just over half the frosting into a separate bowl, leaving the remainder to be turned into chocolate frosting.
To the mixing bowl, add 1/3 cup cocoa powder, plus 1-2 Tbsp of additional milk.
Beat until the cocoa is all mixed in and the frosting is nice and smooth.
Frost the BOTTOM of the half-moon cookies. Half of the cookie should be frosted with the white frosting. Half the cookie should be frosted with the chocolate.