Half Dipped Thin Mint Cookies
invictus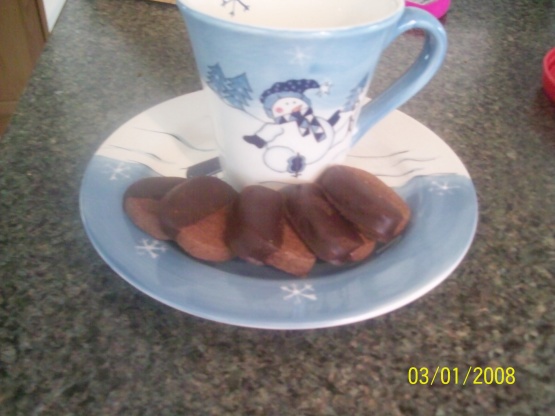 These are nice little cookies and so simple to make. I only dipped half of each cookie because I liked the presentation better but play around to see what you like. Prep time does not include freeze time.

I followed as listed except used whole wheat pastry flour and these were inedible. I realize that's my bad for going off-recipe but usually the two are totally interchangeable. Can't see how using AP flour would make it any better. I threw out half the dough and am saving the chocolate for a different recipe.
In a small bowl, whisk together flour, cornstarch, cocoa powder and salt.
In a large bowl, cream together butter and sugar. With the mixer on low speed, add in the milk and the extracts. Mixture will look curdled. Gradually, add in the flour mixture until fully incorporated.
Shape dough into two logs, about 1 1/2 inches (or about 4 cm) in diameter, wrap in plastic wrap and freeze for at least 1-2 hours, until dough is very firm.
Preheat oven to 375F before slicing your cookies.
Slice dough into rounds not more than 1/4 inch thick and place on a parchment lined baking sheet. Cookies will not spread very much.
Bake each batch for 9-11 minutes. Cool completely.
In a double boiler melt the chocolate and butter together. Remove from heat. Dip half of each cooled cookie into chocolate mixture and let cool on waxed paper.