Prep 10 mins
Cook 40 mins
Baked potatoes in half the time, no additional flavoring required.
2 -4 potatoes, 1/2 potato per serving for russets (any type, but cooking time will vary)
garlic salt
Directions
Slice potatoes in half lengthwise and pierce the meat using a fork or knife. Preheat oven to 350 degrees. While preheating oven add 3-4 tablespoons butter or margarine to a baking sheet or baking dish and melt in oven (for 4 potato halves, you should have a liberal amount of butter or margarine coating the bottom).
When butter is melted remove pan and add a liberal amount of garlic salt. Add parsley, and place potatoes face down in butter.
Bake until potatoes are tender and meat of potato is browned (approximately 35-40 minutes for medium sized Russet Potatoes).
Can be done in Microwave (approximately 15 minutes but check frequently).
Most Helpful
This is a great, quicker way to enjoy a baked potato. I followed another reviewer's suggestion and added grated Parmesan to the melted butter.

Fabulous! Will be making this again; my husband really gobbled these down. I did add grated Parmesan to the butter.
Rita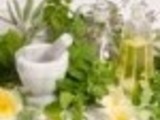 Fabulous tasting potatoes and I love the shorter baking time. I baked them at a higher temperature - big mistake - because I had chicken baking at the same time. Consequently, the butter burned a little and the potatoes were way too browned. Also, the parsley blackened, so I will omit that altogether next time. I will definitely make these again - the right way because they were so delicious! Thanks for the recipe.