My girlfriend loves martinis, so everytime she comes over we try a new one. Here's one we found on the internet and it's pretty good. Named for the mountain on Maui.
Directions
Pour the Absolut vodka, Chambord raspberry liqueur and pineapple juice into a cocktail shaker half-filled with ice cubes. Shake well, strain into a chilled glass, and serve.
Serve in a martini glass.
Most Helpful
I made and thoroughly enjoyed this Martini last night along with recipe #176606 for our dinner. Even though my boyfriend is a beer drinker, he really liked this drink. This drink recipe is going in my Drinks cookbook. Made in honor of Vic's DH.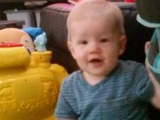 I didn't have any raspberry liqueur so just used syrup instead, the first time I used the same amount of syrup as liqueur in the recipe but that was too sweet so I made it again using a little less syrup. This was really nice & sweet but as one of the other reviewers suggested I think it would also be good adding a little soda or mineral water as a topper. Made for ZWT III.

Loved it!!! This is a perfect cocktail for people who like a sweeter cocktail, AND for people who don't. DH (a serious liquor drinker!) and myself (a foo foo drinker) both loved it! I added a sugared rim, but it really didn't add that much to the drink, next time I won't bother. Thanks for the new summer cocktail Lazyme!!!