Haddock With Bacon and Onions
Zaney1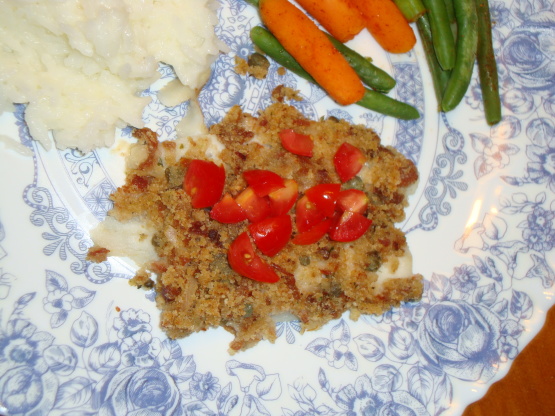 Recipe courtesy Rachael Ray Use cippolini, small Italian flat-shaped sweet onions, but, medium yellow onions, quartered then thinly sliced may be substituted. Cippolini are widely available, so check for them in the local market.

Top Review by Zaney1
Tasty! I did the recipe a little differently than posted. First I used a baking dish instead of a skillet for the fish. It just didn't make much sense for me to put the fish in a skillet and then put the skillet in the oven when I was doing no cooking on the stove top in that skillet. Next I used real bacon bits instead of bacon. I never have strip bacon around. It gets eaten as soon as it is in the house and cooked. LOL I added extra olive oil and a touch of butter to make up for the missing rendered bacon fat. I thought my haddock was a four big fillets but when I opened the bag it turned out to be 13 tiny little fillets. So I ended up with a lot of topping per fillet but it was good so I didn't mind. It took less time to bake b/c my fillets were so small but I anticipated that and adjusted accordingly.
Preheat the oven to 400 degrees F.
Rinse fish and pat dry.
Sprinkle fish with lemon juice and salt.
Coat an oven-safe handled large skillet with a drizzle of olive oil and a little softened butter. If your skillets all have rubber handles, coat handle twice with tin foil and it should be fine in the oven.
Set portioned fish into skillet.
Heat a small skillet over medium high heat. Add a drizzle of olive oil and the bacon. Render the fat in the bacon 3 minutes then add onions.
Sweeten and soften onions and garlic 10 minutes.
Remove pan from heat.
Add bread crumbs to the pan and turn them to coat them in drippings. Add parsley and capers combine.
Top fish with coating of onions, bacon and bread crumbs.
Bake 15 minutes. Transfer fish to dinner plates and top with chopped tomato.