twissis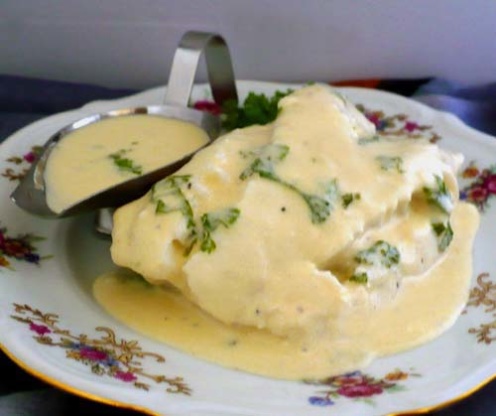 Adapted from the New German Cookbook, by Jean Anderson and Hedy Wurz. Posted for ZWT6. The author included directions for making your own fish stock. If you have the time to make your own stock, please use it here, if not, use the best fish stock you can purchase. I thought this would also be excellent with dill replacing parsley for the final garnish.

Made for ZWT6 mainly because my DH is a recreational fisherman, seafood has great appeal for us & I am always looking for new & tasty ways to expand our seafood dining fare. Poaching seafood in stock/milk & then saucing it is also much-favored by Icelanders. This is an easy-fix & ingredient-friendly. I did have to use cod as I was unable to get haddock when we shopped, but it was otherwise made as written. This recipe is all about the sauce & it takes a bit more time to get the perfect consistency, but it is restaurant quality. All was well till the end when my DH hurried me & I erred by adding the parsley I had set aside directly into the sauce, so that eliminated straining it. IMO the yield is closer to 6 servings than 4 using 3 lbs of fillets w/the sauce, that would improve the nutritional data & there is plenty of sauce for 6 servings. I also feel a few tiny capers would work well as a final garnish. Thx for adding a new dimension to our seafood dining fare w/this excellent recipe. :-)
Combine the stock and milk in a skillet large enough to hold all of the fish in a single layer.
Bring to a simmer over medium heat.
Add the fish, salt, and pepper; and cook uncovered for 5 - 7 minutes, or until the fish just flakes when you touch it with a fork.
Carefully move the fish to a heated platter, cover, and keep warm.
Bring the poaching liquid to a boil, and reduce to 1 cup (about 10 minutes).
Reduce heat to medium, add the cream, and cook for 2 more minutes.
whisk in the mustard, sugar, and sour cream, bring back to a simmer.
Whisk in the butter, a bit at a time, until fully incorporated.
Add any juice that has accumulated on the platter, then strain the sauce over the fish.
Sprinkle with parsley, then serve immediately.