Catnip46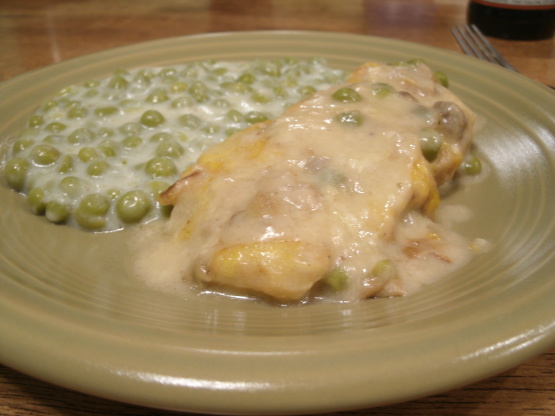 We had this at a potluck supper in Jackman Maine. My husband loved it so he tracked down the cook and got the recipe. The only thing he didn't get is the cooking time and I always 'wing it', so please check fish for doneness.

Delish dish of fish!=) We all loved it and will be making this again and again. The mixture of the cream of mushroom soup and the cheddar cheese made a excellent combination with the haddock. This dish was even better reheated the next day. Next time I make it I am adding more crackers for we were all fighting over the cracker spoonfuls!Thank you Pisces for a tasty and easy casserole!
907.18

g haddock

236.59

ml cheddar cheese, shredded

236.59

ml condensed golden mushroom soup (Has to be golden!)

118.29

ml milk

118.29

ml water
Ritz cracker
Spread the 1/2 of the fish out in a buttered casserole dish, single layer.
Sprinkle the cheese on top of fish.
Layer whole Ritz crackers on top of cheese to cover the fish.
Repeat layers, in same order ending with soup.
Pour the soup on the top and spread with spoon to cover.
Bake in a 350- 375 dgree oven for approximately.
30-40 minutes or until fish is cooked through.