Habanero Fig Jam-Hot and Spicy Good!
Rita1652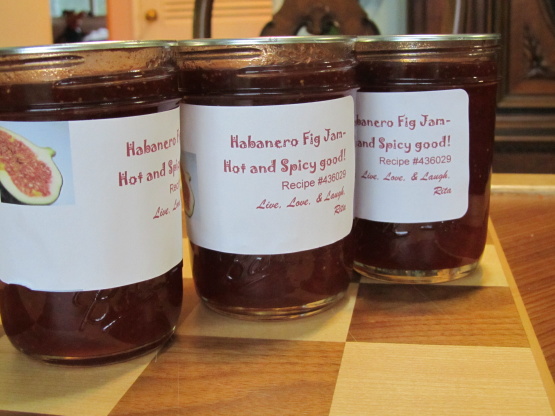 This jam is figgy GOOD, and Habby HOT!

I made this today using jalapenos and incorporated much of the seeds from the peppers. It has a good taste but looks runny. Time will tell.
Place apple habaneros and 1 cup sugar in food processor and pulse till very fine. Place into a large nonreactive heavy bottom pot. Add everything but the sugar. Stirring in the pectin to dissolve.
Bring to a full rolling boil,(a boil that doesn`t stop when stirred).
Add sugar and return to a boil. Boil for 1 minute.
Remove from heat and ladle into sterilized jars. Leaving 1/4 inch head space.
Wipe rims and place lids on add screw tops.
Process in a hot water canner for 10 minutes.
Remove and leave in a draft free spot to seal for 24 hours.
Label and store in a dark cool spot.