Annacia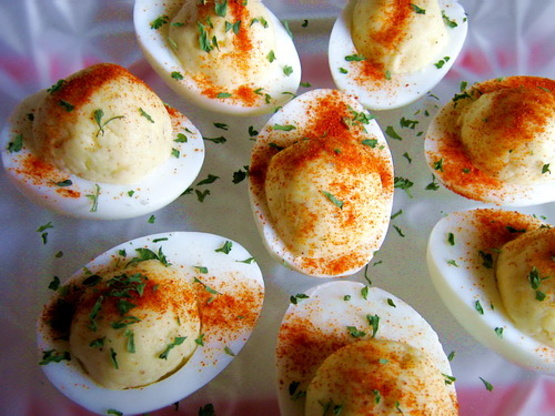 Since he was able to talk, grandson Jonathan, has requested some of Gwanny's Double Eggs when he comes to visit--it took a while to realize he meant DEVILED Eggs. The special ingredient is the added small boiled irish potato which takes on the tastes of the condiments, and extends the amount of filler in the egg. The amount of condiments to add is dependant upon your own taste and consistancy desired.

Who knew that potato in deviled eggs would be so good and such a filling extender? I rolled the yolk mix into balls to resemble the whole yolks so it looks like half of the whites are missing. The potato matches the yolk so well in texture and consistency that nobody would ever know it was there. This makes a mild flavored but yumm egg. It's a keeper!
Put eggs on stove in cold water.
Bring to boil, cover and remove from heat.
Let them sit in hot water for 12-15 minutes.
Pour off hot water and allow to sit in cold water until cool enough to handle.
Peel eggs and cut in half, removing the yolks to a small bowl.
Mash yolks and add the mashed potato.
mixing well.
Add mayonnaise, mustard, and vinegar to desired stuffing consistency; add salt and pepper.
Stuff yolk mixture into the egg whites and refrigerate until ready to serve.
Garnish with light sprinkling of paprika, if desired.
NOTE: Adding a teaspoon of vinegar to the water before boiling the eggs will prevent the leaking out of egg white should the egg crack during the cooking process.