Gurkensalat (Cucumber Salad)
teresas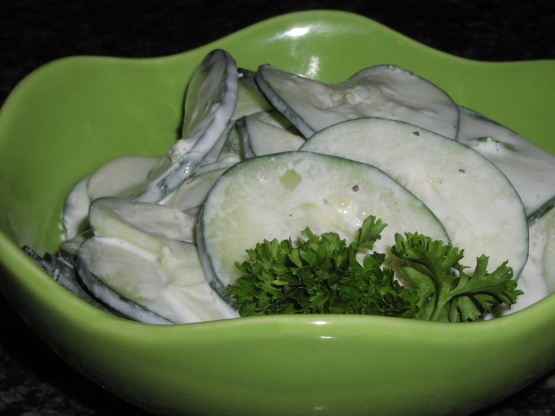 Posted for World Tour 2006, this is a mildly tangy cucumber salad of the sort you can find at small cafes and private homes in Germany. I loved this one when I lived there. It's not fancy but it is definitely tasty.

I added some thinly sliced sweet onion and really liked the sweating technique. I eyeballed the sour cream to meet the consistency I wanted. At the end I added fresh parsley and dill. This dish is very refreshing and tasty! Highly recommend trying this recipe.
Peel cucumbers and cut into very thin slices.
Mix together vinegar, sugar, salt, and pepper and pour over cucumbers.
Marinate about 20 minutes to an hour but no more than that; drain off liquid, toss cucumbers with sour cream, then top with fresh parsley and serve.