Gurkensalat [cucumber Salad]
Parsley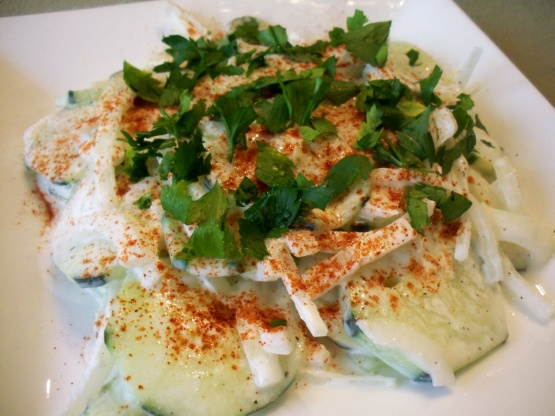 Again this is from my Woman's Day cookbook.

I put the cukes in the fridge last night to marinate and then for an early dinner I made these to go with your Sea Scallop recipe#194943...everyone loved the meal. I followed the directions exactly and will follow it again. Thank you for submitting your recipe. Made in memory of NoraMarie's husband Ed.
Peel cucumbers. Score with a fork.
Thinly slice cucumber and onions.
Arrange alternate layers of cucumber and onions in a bowl, sprinkling each layer heavily with salt.
Cover with ice water.
Refrigerate for several hours.
Drain and wash with running water.
Drain well.
Blend oil with vinegar.
Pour mixture over cucumbers and onions and marinate for several hours.
Drain. Stir in sour cream and pepper to taste.
Top with chopped parsley and paprika.
Prepare several hours ahead of serving.