Pamela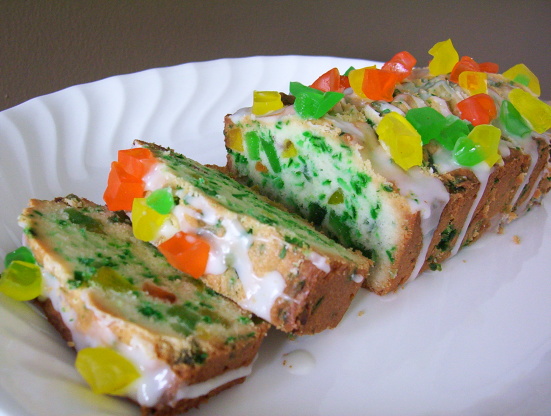 I remember liking a gumdrop cake my Mom used to make, I do not have her recipe, so when i saw this one in a magazine i hung onto it,have not made it yet, but it sounds good. Would be nice at Christmas time for the kiddies. The intro to the recipe recommends using sugar coated gumdrops that you can find in the bulk food stores and using only the red, green, white & yellow ones.

Top Review by Pamela
I chose this recipe for Pick a Chef fall 2005 and also because it would be a great addition to the Once a Month Cooking Collection. I did have to make a few changes but it still worked out fine. I used some leftover "dinasour gummies" that the kids had not finished and the only coconut I had in the house was tinted green from making "cheeseburger in Paradise" Cookies Recipe #89105 so that's why the photo looks a bit odd ;)This did freeze very well and is a perfect addition to school lunches. Thanks for sharing it!
Grease a 9x5 (2 L) loaf pan.
Line with parchment paper, cutting to fit.
In large bowl,beat sugar& butter until light& creamy,beat in the eggs,lemon rind& vanilla until fluffy.
In a separate bowl,stir together flour,baking powder& salt.
Gradually beat the flour mixture into sugar mixture alternately with the milk until mixture is smooth.
Stir in gumdrops& coconut until well combined.
Spoon into prepared pan and bake at 350 for 1-1 1/4 hrs.
or until tester in centre comes out clean.
DON"T OVERBAKE.
Let cool in pan for 5 minutes.
Turn out and let cool on wire rack completely.
Lemon Glaze: In small bowl,whisk icing sugar& lemon juice until smooth.
Drizzle glaze evenly over top of the cake& sprinkle with the chopped gumdrops.
Can be refrigerated loosely covered for up to 1 week.
If you would like to store longer, freeze the cake UNWRAPPED, then wrap carefully& store in freezer up to three months.