Gumbo Style Chicken Creole
CandyTX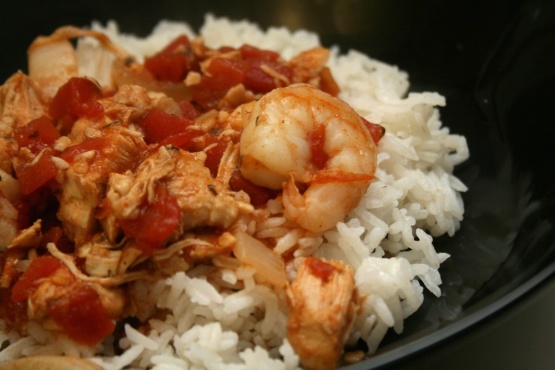 Cooked leftover chicken can be tossed into this gumbo and simmered with tomatoes, mushrooms, chile peppers, a little of this and a little of that. Delicious chicken gumbo consistency with tomato base. Makes plenty to last for several days. Serve over hot cooked rice and sprinkle with filet powder, if desired.

We cut the flour out of this as well as the Worshire sauce and used low sodium soy sauce. We also had half chicken and half shrimp leftover so we tossed it all together and this ended up being absolutely fabulous! A thin creole/gumbo, but it was light and not a heavy dish at all. A keeper!
Heat oil in a large skillet over high heat.
Stir in flour and cook, stirring constantly, for 5 minutes or until mixture is the color of a copper penny.
Reduce heat to low and stir in bell pepper and onion.
Cook 10 to 15 minutes, or until tender, stirring occasionally.
Add chicken, tomatoes with green chile peppers, mushrooms, parsley, Worcestershire sauce, garlic, soy sauce, sugar, salt, pepper and hot sauce.
Stir together, cover and simmer for 20 minutes.