Larkin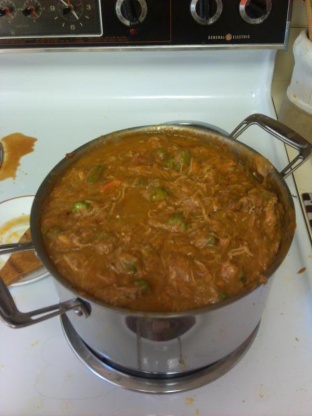 This is a recipe based off of the last time I made gumbo. It was OUTSTANDING! I made it for a large group of friends and everyone enjoyed it. This is my attempt at writing it down for future reference!
5 hours before you plan to serve the gumbo, begin making the roux.
Combine flour and oil in a skillet and heat on medium low. Stir frequently!
Combine the rest of the ingredients except for the shrimp and okra in a large pot. Chicken bones and all (this will add great flavor)!
Heat on medium for 4 hours stirring occasionally.
After 4 hours, add the shrimp and okra and begin removing chicken bones as you find them.
Once the roux has reached a nice, dark brown color (this should take about 4 or 5 hours when done correctly), add it to the soup mixture.
Be careful! It will sizzle and pop.
In about 1 more hour, the shrimp should be fully thawed and cooked without adding a strong shrimpy flavor to the gumbo.
Serve over rice. Warn your guests about the potential threat of chicken bones! ;).
Enjoy!