COOKGIRl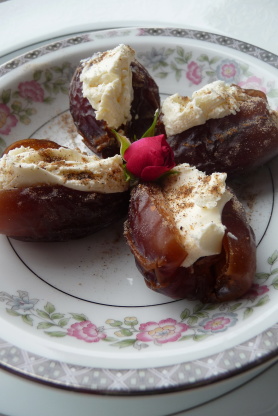 Perfect with Arabic coffee or tea.

UmmBinat, I enjoyed these sweet little morsels today with homemade iced coffee. Unfortunately I couldn't remember where in town I had seen fresh dates. Instead I used good quality organic, unsulphured deglet noor dried dates and Nancy's brand (Oregon-made!) cream cheese softened to room temperature. Rose water would be a delicious addition as an afterthought...Sprinkled a light dusting of ground cardamom! Thank you!
fresh dates, pitted and sliced in half (or soft dried whole dates)
puck cream cheese spread (not regular cream cheese, it's creamier, softer and tastier, found in Arab shops though Danish)
Pit and separate dates into halves.
Spread a little Puck cream cheese spread in the indent.
Enjoy with tea or Arabic coffee!