Gulai Sayur (Collard Greens Curry Indonesian Style)
rpgaymer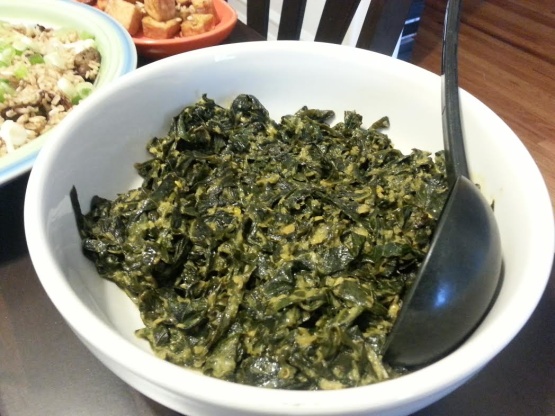 This recipe is from an Indonesian market restaurant stall.
I've actually never had collard greens before, but I cook often with the other ingredients in this recipe so I was curious to try it. The greens came out pretty good and the seasoning was spot-on, but the dish does taste pretty heavy. Next time I'd probably use light coconut milk.
Combine turmeric, shallots, garlic, chiles, and ginger in a small food processor and puree, adding up to 4 tablespoons water, to form a smooth paste. Set aside.
Trim tip and root ends of lemongrass stalks and remove tough outer layer. Using a meat mallet, smash lemongrass to ?atten and tie into a knot.
Heat oil in a 6 quart pot over medium-low heat. Add reserved paste and lemongrass. Cook, stirring often, until very fragrant (10–12 minutes).
Add sugar, salt, and coconut milk. Bring to a simmer over medium heat. Add collard greens and cook, stirring occasionally, until just tender (40 minutes). Remove lemongrass and season with salt and pepper. Serve warm.