bobpet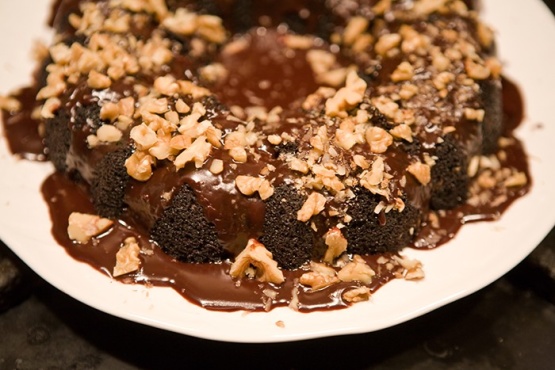 Beer - it's not just for drinking any more!

I had some trouble with the icing as well. Took Sharlene's advice and used some cream to get the right consistency. Overall, the cake turned out nicely. I had some mixed reviews... my guy friends loved it and my girlfriends thought it was too bitter.
To make the cake-----------.
Grease and line two 8-inch cake pans, and preheat the oven to 350F degrees.
Cream butter and sugar together.
Gradually beat in the eggs.
Sift the flour, baking powder and baking soda into a separate bowl.
Stir Guinness into cocoa.
Carefully fold in alternate quantities of flour and cocoa to butter/sugar mixture.
Spread mixture into pans and bake for 30-35 minutes.
Leave to cool in pans for 5 minutes before turning out.
To make the icing---------.
Melt chocolate with Guinness, and then beat in butter and leave to cool a little before beating in icing sugar.
Remove ¼ of icing and stir in chopped walnuts.
When icing has cooled to a spreadable consistency, sandwich cake with walnut icing and use rest for top and sides.
Decorate with walnut halves and grated chocolate.