Guinness Braised Beef With Mushrooms
Prep 40 mins
Cook 2 hrs 15 mins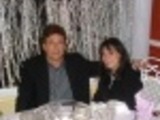 From "Cooking with Beer", Good Food Magazine March 1988
Make and share this Guinness Braised Beef With Mushrooms recipe from Food.com.
Directions
Arrange rack in lower third of oven. Preheat oven to 350 degrees.
Heat 2 T. oil in Dutch oven over high heat. Add 5 or 6 meat cubes and sprinkle with salt and pepper. Brown meat on all sides, 5-6 minutes; transfer to plate. Brown remaining meat in batches, adding oil as needed.
Add onions, carrots, and garlic to Dutch oven and stir to coat with oil. Reduce heat to medium and cook, stirring occasionally, until onions are light golden, about 15 minutes.
Meanwhile, tie allspice, cloves, parsley and thyme sprigs, bay leaf, and chile pepper in a piece of cheesecloth.
Add beef broth, stout, tomato paste, browned meat, and spice bag to Dutch oven. Heat to boiling, scraping bottom of pan with wooden spoon. Cover Dutch oven tightly with aluminum foil and lid. Bake, stirring occasionally, until beef is tender, 1-1/2 to 2 hours. If necessary, add water to keep solids covered with liquid while baking.
Note: Recipe can be made up to this pint 3 days in advance. Remove spice bag and store beef in refrigerator. Before proceeding, remove fat from surface and heat to simmering.).
Meanwhile, heat butter and 1 T. vegetable oil in large skillet over medium-high heat. Add mushrooms and cook until light golden, about 4 minutes.
Transfer Dutch oven to top of stove. Remove spice bag and skim off fat from surface. Stir in vinegar and taste and adjust seasonings. Using slotted spoon, add mushrooms to stew. Simmer stew covered 5-10 minutes. Stir in chopped parsley. Serve hot over cooked rice or mashed potatoes.
Reviews
Most Helpful
Excellent! It may seem like a lot of steps, but really most of the time this dinner is happily cooking away in the oven and making the house smell wonderful. My whole family loved this dinner. I served it over mashed potaotes and loved having the extra juices/gravy to pour over them. One of my favorite recipes of the Culinary Quest 2 and going into my best recipe file. Thank you!