Guinness Banana Nut Bread
Rita1652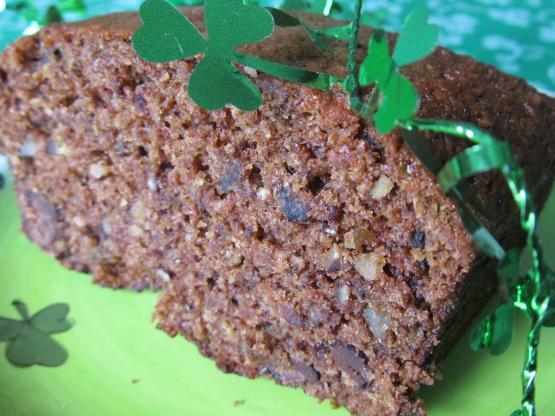 Found this on line by Ken Pappenheim This came in First prize in the dessert category in the 2000 Guinness Cook-off at his local Pub. And for all of you that know me I did tweak it just a bit. Top it with this Orange Cream Cheese Frosting if your want to really bring it up a notch! Heart Optional: You can replace 1/2 cup of flour with Irish steel cut oats. I just spun them in the food processor with the sifted ingredients. Better for your heart!

Lovely banana bread! This recipe saved the day. I started making bran muffins this morning at 7am and after I had mixed together the flour, 2 t. cinnamon, 2 t. baking soda and 1 c. sugar, I realized that I did not have any bran. So the search began for another recipe and I came across this one; I had most of the ingredients so only had to make a few changes. Since I had already added a greater amount of cinnamon, I reduced the other spices to 1/4 t. each based on some of the other reviews. I then used 1 c. brown sugar since I had already stirred in 1 c. granulated sugar. I only had Guinness draught. I used 2 bananas (almost 1 cup). I stirred in 2 generous tablespoons of chopped candied ginger, 1/2 c. dark chocolate chips and 1/2 c. chopped semi-sweet chocolate, 1 c. chopped toasted pecans and 1 c. raisins. I then baked it in a bundt pan for 1 hour. My husband declared this a winner! Thanks for the recipe.
Preheat oven to 350°F. Lightly grease two 9 x 5-inch loaf pans.
In a large bowl cream the brown sugar, banana, eggs, vanilla and oil; set aside.
In a separate bowl, sift together the flour, baking soda, salt, cinnamon, allspice, cardamom and cloves.
Alternately blend the flour mixture and the beer into the creamed mixture.
Stir in the walnuts, raisins, chocolate chips, and ginger to the mixture and blend well.
Pour into the prepared pans.
Bake for 1 hour or until toothpick inserted in cake comes out clean.
Leave in pan for 15 minutes to cool before turning out to cool completely on rack. Plate and dust with sugar.