Guilt Free West Coast Cheese Sauce
Annacia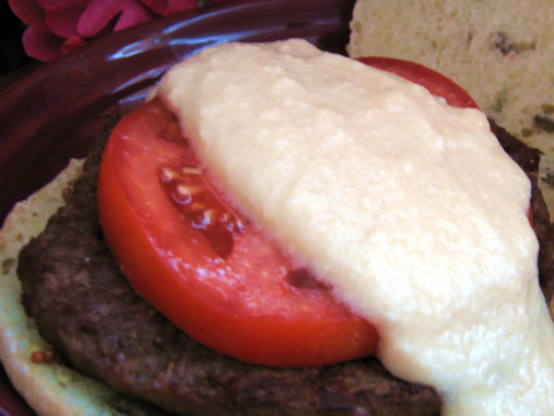 Entered for safe-keeping. From Sam Miles's "Guilt Free Gourmet", listed as a topping for Guilt Free West Coast veggies. Sam Miles emailed me 1.26.09 to say the sauce should resemble thin pancake batter, and used sparingly; she agreed it was best to start with 1/2 cup of skim milk (I suggested evaporated skim milk for better consistency).

Love the flavor of this sauce, it has some spunk :D. Even though I simmered for well over 5 mins the parm never really melted so it retained a soft gritty texture and it never thickened really since the cheese wouldn't melt and incorporate with the milk. to bring it all together I used some cornstarch (a bit to much actually). I ended up making a "cheeseburger" (with a veggie patty). I'll thin the remainder of the sauce another day and try it with veggies. I don't know if longer simmering would melt the cheese into the sauce or if it was just my older parm being set in it's ways. I still loved it and even though I used close to half of it I still don't feel any guilt, cool! Made for Photo Tag.
In a small saucepan, combine all ingredients, bring to a boil, then reduce heat to simmer for 5 minutes, stirring occasionally.