Guilt-Free Crustless Ricotta Cheesecake
cande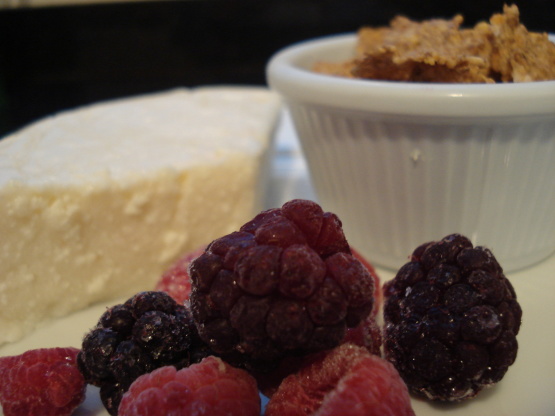 I really love cheesecake. But I can't stand the calories in most of them, so here's a lighter version. It's very easy to make, no-bake and the best part.. It's diet proof. I hope you like it, please tell me what you think! NOTES: - You can make it on a pre-baked crust. - It's nice to serve it with some berries or berry jam, that's up to you. - You can use whole products and/or sugar if you really don't mind, but the idea was to make it lighter and healthier :) Enjoy!
Dissolve gelatin in water and heat until it's completely dissolved.
In a bowl, combine all the other ingredients: ricotta, cream, white cheese, honey, artificial sweetener.
Mix them: if you do like the texture of ricotta, just mix it well with a spoon or spatula. If you don't, use an electric mixer to soften the ricotta and remove all possible lumps.
Add the dissolved jello to the mixture and stir well.
Pour mixture in a glass container and refrigerate until set. (it takes around 3 hours, counted as cooking time).