Guilt Free Cappuccino Sundaes
Food.com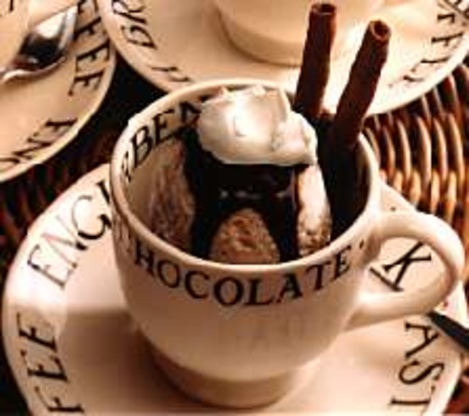 In a perfect world this would be fat-free, super low-calorie and carb-free. It's not, but we can still indulge and think we're eating healthy.

Made two of these (for 2 of us) & although I followed the recipe when making a sundae for my other half, for myself I left out the instant coffee & we were both happy campers since I don't like the taste of coffee & he does! I did leave off the whipped topping, & the biscotti that I usually have around here is definitely NOT fat-free! We still loved your sundaes, though ~ Thanks for sharing the recipe! [Made & reviewed in Healthy Choices ABC tag]
1⁄3 cup unsweetened cocoa powder
1⁄3 cup water
1⁄2 cup sugar

2 -3

teaspoons instant coffee or 2 -3 teaspoons espresso
fat-free frozen yogurt or low fat frozen yogurt or ice cream
fat-free whipped topping or low fat whipped topping or regular whipped topping (optional)
fat-free cookies or fat free biscotti (optional)
If the cocoa has lumps, sift or press through a fine mesh sieve (to avoid a lumpy sauce).
Set aside.
In a small saucepan, bring water and sugar to a boil, stirring until sugar is dissolved.
Boil gently for about 1 minute.
Remove pan from heat and whisk in instant coffee or espresso until dissolved.
Whisk in cocoa until thoroughly incorporated and smooth.
Scoop ice cream or frozen yogurt into coffee cups or dessert dishes.
Spoon on warm espresso sauce and top with a dollop of whipped topping if desired.
Serve with a cookie.