luvbakn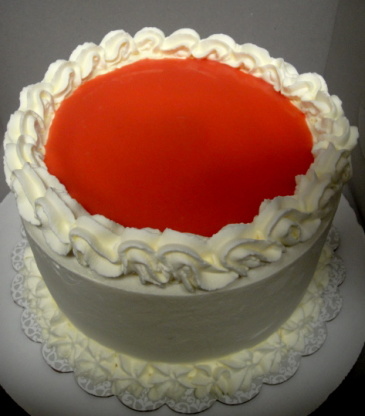 From Star Bulletin, the base of this recipe is used to make another wonderful cake called the Paradise cake (from southern CA's King's Bakery). you're not going to want to share any of this!

Reminds me of childhood in Hawaii when my parents would buy Kings Bakery Guava Chiffon Cake. This is a moist cake; fluffy on the inside with a nice blend of flavors from the beautiful lemony tainted glaze to the custard in the middle and the whip cream frosting. Only suggestions are to really beat the egg whites very still before folding into the cake batter. I noticed a few reviewers cake turned out chewy? Not the case for me. I also make a simple guava syrup (1/2 cup guava jam or guava concentrate and 1/4 c water) warm up in microwave and then brush over cake before icing. This keeps the cake extra moist so that it last a few days in fridge. Love this recipe!
FOR CAKE:.
Preheat oven to 325°F and lightly grease the bottom of an 11-by-13-inch pan.
To make batter, sift together cake flour, sugar, baking powder and salt.
Make a well in the center; add oil, water, guava juice, egg yolks and vanilla. Beat with a spoon until mixture is smooth. Add food coloring. Set aside.
FOR MERINGUE: Beat egg whites with cream of tartar until soft peaks form. Gradually beat in 1/2 cup sugar until stiff.
Gently fold batter into meringue until barely mixed. Pour into pan. Bake 35-40 minutes, until a pick inserted in the center comes out clean. Remove from oven and invert on a rack to cool completely.
Remove from pan gently. Cake may be cut in half lengthwise and frosted as two layers, using the filling and frosting below.
FOR GUAVA CHIFFON FROSTING:.
Beat egg yolks and sugar until lemon-colored; add guava juice, place in saucepan and cook over low-to-medium heat until thick, about 8 minutes. Remove from heat and chill.
Whip cream and vanilla, then fold into guava mixture. Frost sides of cake; cover top with guava topping. Makes enough to frost one cake. If layering an 11-by-13-inch cake, double this recipe.
FOR GUAVA TOPPING:.
Mix cornstarch with water to dissolve all lumps. Add salt, guava and lemon juices and egg yolk. Cook over low heat until thick, stirring constantly. Remove from heat and add butter. Spread when slightly cooled but still warm.