luvbakn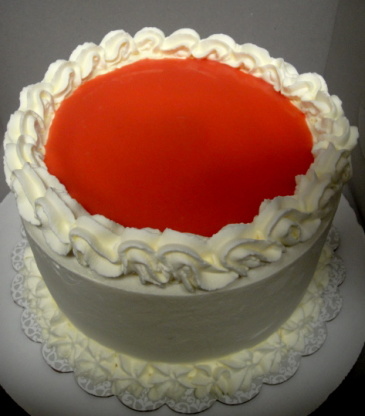 From Star Bulletin, the base of this recipe is used to make another wonderful cake called the Paradise cake (from southern CA's King's Bakery). you're not going to want to share any of this!

I am baffled that 2 of the 3 previous reviewers thought this recipe was good. Although I notice that one used Strawberry Guava and the other used her own whipped cream frosting. So neither were truly reviewing this recipe "as is" There were thickening issues on both the guava base for the frosting as well as the guava frosting. I had to add arrowroot just to salvage the recipe. Maybe using the strawberry guava is the trick, because straight guava made for a very bland (and not at all sweet) cake and guava topping. The cake was far from the light fluffy chiffon consistency as I had hoped for. Maybe rather than sifting 2 3/4 cups of cake flour, he meant to measure 2 3/4 cups of sifted cake flour? It was definitely denser than a chiffon should be. I also found his varied title use confusing: guava frosting . . . guava chiffon topping (in ingreds) - guava chiffon frosting . . . guava topping (in directions) huh? Back to the drawing board . . . there has to be a good Guava Cake recipe out there somewhere. My recommendation, be ready to make creative changes to this recipe along the way or you will be disappointed.
FOR CAKE:.
Preheat oven to 325°F and lightly grease the bottom of an 11-by-13-inch pan.
To make batter, sift together cake flour, sugar, baking powder and salt.
Make a well in the center; add oil, water, guava juice, egg yolks and vanilla. Beat with a spoon until mixture is smooth. Add food coloring. Set aside.
FOR MERINGUE: Beat egg whites with cream of tartar until soft peaks form. Gradually beat in 1/2 cup sugar until stiff.
Gently fold batter into meringue until barely mixed. Pour into pan. Bake 35-40 minutes, until a pick inserted in the center comes out clean. Remove from oven and invert on a rack to cool completely.
Remove from pan gently. Cake may be cut in half lengthwise and frosted as two layers, using the filling and frosting below.
FOR GUAVA CHIFFON FROSTING:.
Beat egg yolks and sugar until lemon-colored; add guava juice, place in saucepan and cook over low-to-medium heat until thick, about 8 minutes. Remove from heat and chill.
Whip cream and vanilla, then fold into guava mixture. Frost sides of cake; cover top with guava topping. Makes enough to frost one cake. If layering an 11-by-13-inch cake, double this recipe.
FOR GUAVA TOPPING:.
Mix cornstarch with water to dissolve all lumps. Add salt, guava and lemon juices and egg yolk. Cook over low heat until thick, stirring constantly. Remove from heat and add butter. Spread when slightly cooled but still warm.