jlg1306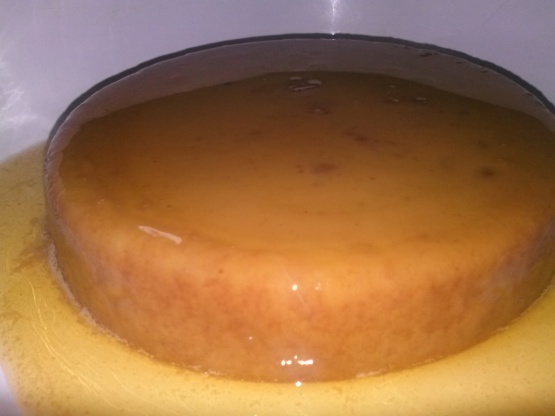 Guava and cheese (Guyaba con Queso) is a typical combination for Cubans. It is delicious! They have Guava Skins that are made in syrup and then combined with cream cheese and "Cuban" crackers - oh my!!! This is an acquired taste and one that is NOT diet friendly!! This was given to me by a woman who works in the activities dept and is trying to start her own dessert business. Didn't include chilling time of about 3 hours up to overnight.

Beautifully made and a delicious flavor! I followed the recipe EXACTLY!!! The flan itself has perfect texture however I would have preferred it to have a bit more kick of the guava, but that was easily fixed by adding a few guava paste slices on the side!
Preheat oven to 350°F
Place sugar and water in 9-inch round cake pan.
Stir until sugar is slightly dissolved.
Place pan on stove on medium heat.
Cook sugar about 10 minutes, without stirring, until sugar turns a golden to golden brown color.
Use oven mitts to swirl pan, coating bottom and sides with caramel.
Place pan on wire rack to cool and harden caramel slightly.
Meanwhile, place remaining ingredients in blender container; cover.
Blend until smooth.
Pour mixture over cooled and hardened caramel in pan.
Cover with foil.
Place a large shallow baking pan in oven.
Place cake pan in baking pan.
Carefully pour hot water into baking pan so it comes halfway up side of cake pan.
Bake 1 hour or until knife inserted in center comes out clean.
Remove cake pan from water bath.
Cool on wire rack.
Carefully loosen sides of custard from pan with a knife.
Cover and refrigerate 3 hours or until chilled.
May be chilled overnight.
To unmold, invert pan onto a large shallow plate or pie dish.
Garnish with mango and kiwi slices, if desired.
*Guava paste is available in the international aisle of grocery store, it is sold in bars.