Guasacaca Sauce (Venezuela)
Mami J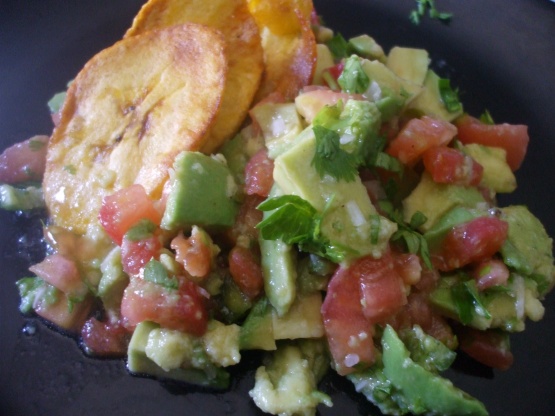 I use this sauce with Doritos ;) or tostones (another recipe mine) Try it you will like it ;)

This sause was delicious! I cut the recipe in half and cut the oil down and vinegar and added some lime juice to it...Yummo! I served it with Recipe#311873#311873 and we had a delicious meal which I will definately make again! Made for Fall Pac Orphanage 2009.
Peel tomatoes and dice them, along with the chili peppers and the onions.
Mix the tomatoes, onions, chiles, the parsley and the cilantro with the vinegar, the oil the salt and the pepper, mixing with a wooden spoon.
Peel the avocados, puree the most ripe one, cut the other one into dice.
Add to the other ingredients and place the avocado pip in the sauce, so it does not go black.
Before you serve remove the pips.