Guacamole With Sour Cream
Pam-I-Am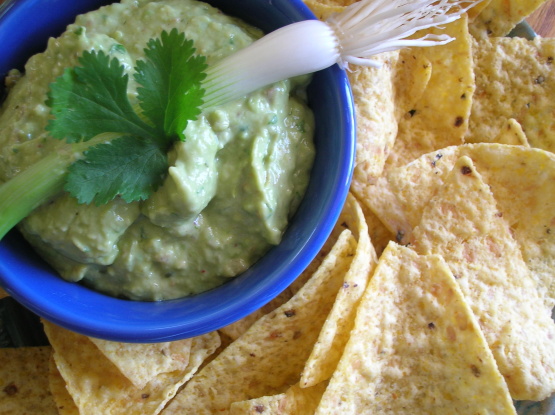 My guacamole is very free-form, but here are the basics: Figure about 1/2 large avocado per person. I don't care whether I'm using Haas or regular avocados - some people do. Pick ones that give to mild pressure but are not mushy. If you can't find any that are ripe, get hard ones and keep them in a paper bag for a couple of days until they ripen.

Very good guacamole. I didn't have olives but added salsa verde. Great with our Mexican Cobb Salad.
Cut the avocado in half, scoop out the flesh with a spoon; mash 3/4 of it well and chop the remaining 1/4 coarsely (I do this with the spoon, in the avocado shell, before scooping the last bit out).
Mix it into the mashed portion.
Mix all remaining ingredients together.
Serve immediately, or cover with plastic wrap, pressing wrap firmly to surface of guacamole (or it will turn color due to oxidation) and refrigerate up to 4 hours before serving.