Guacamole With Roasted Garlic
Rita1652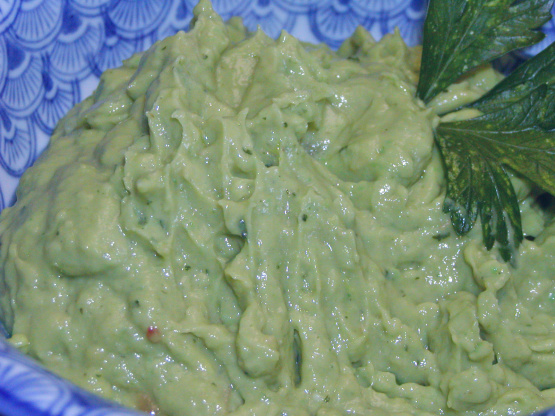 This is sublime guacamole! Be sure to make it fresh, right before you serve it and also make sure to use good, ripe avocados. I found this in the Chicago Tribune but it's a Wolfgang Puck recipe originally.

YUMMMMMMY!!!!!!!!!!!!!!!! A must try! I love Guacamole and for those of you that know my recipes here know I have a couple of my own avocado recipes and this one is right up there. I wish I could give it 10 stars! The roasted garlic is just great in this! The cilantro and lime is a must! Thanks!
For the garlic: heat the oven to 375°. Place the garlic head on a sheet of heavy-duty aluminum foil; rub with the olive oil. Wrap the garlic securely in the foil; roast until tender, about 50-60 minutes. Remove from the oven; set aside to cool at room temperature.
Unwrap the garlic; halve crosswise with a serrated knife. Squeeze out the softened garlic pulp into a small glass bowl, or scoop it out with a teaspoon or small knife. Cover the bowl; refrigerate until ready to use.
Scoop the avocado flesh into a mixing bowl; pour the lime juice over. Lightly mash until still slightly chunky; stir in the cilantro, 1-2 T. of the roasted garlic, shallot, jalapeno pepper and salt. Serve immediately with corn tortilla chips.