flower7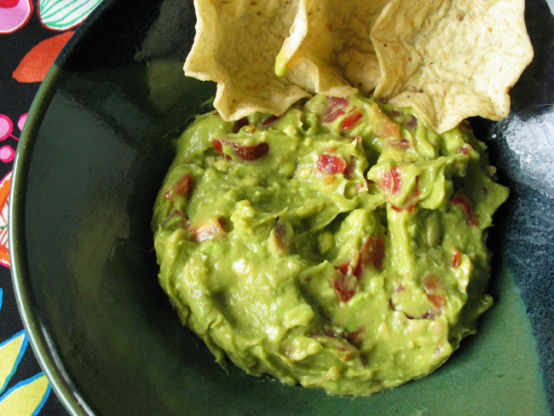 A recipe that has been handed down from my grandmother and is always a request at home and work functions. If you don't have fresh garlic, you could use garlic powder. Is also tasty with diced onion. You might start out being conservative with the salt. Between the Worchestershire sauce and the salt from chips, it can get salty pretty quick, but it is always delicious!

Really good easy guacamole! Since I was making this just as a snack for myself, I cut down to one avocado, using about 1/4 tsp smoked coarse sea salt, 1 tsp lemon juice (maybe a little extra), a dash of Worcestershire, a whole clove of garlic & Mexican Cholula hot sauce instead of Tobasco. Used 6 cherry tomatoes. Next time I might add some red or green onion but didn't have any handy this time. I would have never thought of Worcestershire in guacamole but Worc. is one of my favorite flavors so I really liked what it added. Thanks for sharing! [Made for Spring 2013 Pick A Chef]
Mix all ingredients to taste.
Serve with Tostidos.