PaulaG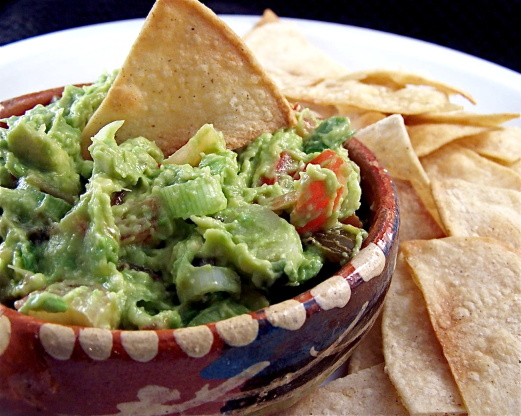 Classic Appetizer. Lighter version. Great for all occasions!

Please note, I would consider the recipe fit for a very extra large avacado... the quantities might be better for 2 medium or 3 small avacados... experiment with how much avacado! I love the combination of items added to make this guac, but without enough avacado, it's really not right at all. I made this today. I had 6 small avacados. I used 1 1/2 times the other ingredients and it was just about right. But if you are not skillful at figuring this kind of stuff out, this recipe won't work for you! I believe the avacado quantity should be 2 or even 2 large. That being said (a big adjustment), I give the adjusted recipe 5 stars as well as my additional input below.<br/><br/>Yummm! I used a little cayenne pepper since I didn't have jalapeno. I also added a small, fresh, minced clove of garlic. Everyone loved it... I was so happy to find something to use instead of buying a mix. I wanted to not have to spend money on a mix every time I make guacamole. But almost every time I try a guac recipe, my husband is disappointed... this time he liked it (even though not as much as Produce Partners). Since he likes it, I'll stick with it. This makes a small amount and so I suggest doubling for a family size portion.<br/><br/>Addition to review: <br/>This is such a versatile recipe... this time I changed a couple of things in a pinch and it was still delicious. I used regular onion instead of green. I used a little crushed red pepper in place of the jalapeno. By the way, when I have small avacados, two count for one... then I go by flavor to determine if more of the extras are needed. This is just a great recipe!
Cut the avocado in half and discard the pit.
Scrape the avocado pulp onto a small bowl; coarsely mash with a fork.
Add the tomatoes, scallions, jalapeno pepper, lime juice, and salt; mix until just combined.
Scrape into a serving dish and serve at once.