Kim127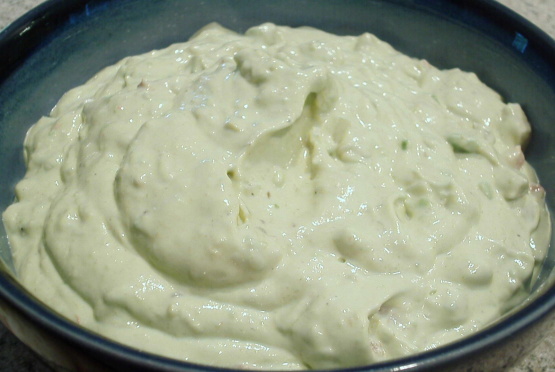 This is a creamy and garlicky guacamole, friends of mine that never liked guacamole before love this - give it a try!

This is nice but I would have preferred it with fresh garlic plus onions I think and more avocado as some other reviewers stated. Not sure what type of avocado I used but it was smooth and perfectly ripe. I used some fresh chopped sweet onion instead of the dried as that is what I had on hand. I used grape tomatoes, Hellman's olive oil mayonnaise to be soy free. Instead of sour cream I used thick yogurt to be corn free, plus the rest and did not to add salt at all as it really did not need any more. Served with rice crackers and cucumber sticks as a light lunch.
Mash the avacado till fine add your garlic salt while you mash it will help you break down the avacado. Add lemon juice.
Add remaining ingredients and refrigerate for at least two hours.
Serve with scoop chips, salsa and sour cream!