HisPixie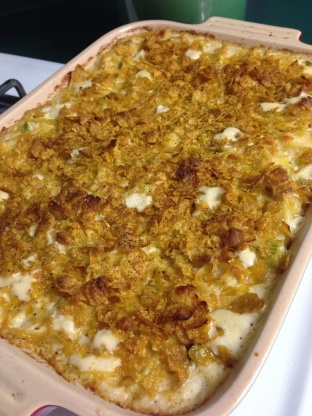 I don't remember where I got this recipe but it is very tasty. This recipe makes two 2-quart casseroles, 10 to 12 servings each.
12

ounces egg noodles, medium

14

ounces tuna, drained & flaked (2 cans)
1⁄2 cup onion, finely chopped

2

cups celery, finely chopped

1

cup mayonnaise
3⁄4 teaspoon salt
10 3⁄4 ounces cream of shrimp soup
10 3⁄4 ounces cream of celery soup

1

cup milk
1 1⁄2 cups cheddar cheese, shredded
Preheat oven to 425 degrees.
Cook the noodles as directed on package and drain; do not overcook.
Stir tuna, onion, celery, mayonnaise and salt into noodles.
Mix the soups and milk in a small saucepan. Heat through, stirring constantly.
Add the cheese to the soups and stir until it melts.
Pour over the noodle mixture and gently mix.
Bake uncovered in 2 two-quart buttered casserole dishes for 30 minutes.