Ground Turkey Tortilla Casserole
Dnice25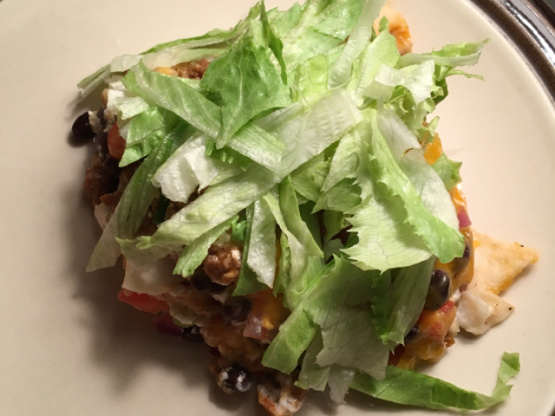 This is a recipe that I adapted from a few other tortilla casseroles and it is a quick & easy tummy satisfier!

This dish was easy to prepare and quite tasty. We like our food spicy so I added two diced jalapenos and a heavy shake of red pepper flakes. My fiancee is not a sour-cream person so I cubed an 8 oz. container of cream cheese and used that instead (which tasted great!) but I will make the cubes smaller next time. Also, instead of plain tortillas I used green chile tortillas, and instead of plain salsa I used a tequila lime salsa. Will definitely make this one again!
Brown turkey and small onion until meat is completely done.
Add taco seasoning packet and follow directions for cooking on back.
Spray non-stick casserole dish (9x9) with non-stick cooking spray.
Cut flour tortillas into bite size pieces and layer 1/2 of tortillas on bottom of casserole dish.
Add 1/2 of the cheese, sour cream, salsa and black beans.
Start with the remaining tortillas and repeat layering.
You may top with extra cheese or salsa if preferred. Other options include: corn, red pepper, green pepper, jalapenos, or any other ingredient.
***play with ingredients, if you like more sour cream, simply add more, if you like less, add less. Don't be afraid to test different options.
Bake at 350 until all cheese is melted and everything is heated thoroughly (usually about 30-40 minutes). You may wish to cover the dish with foil to prevent overbaking the top -- then removing it for the last 5-10 minutes.