Ground Turkey Phyllo Pies
qbrrt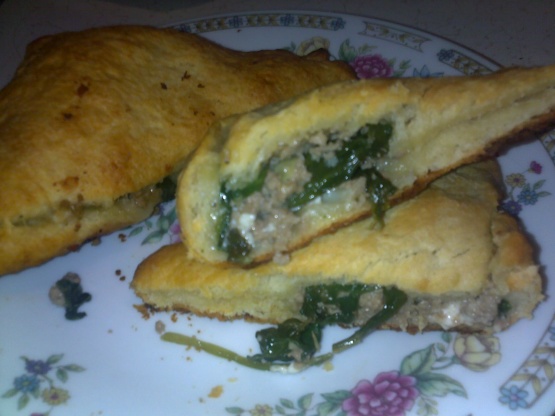 Traditional phyllo pies stuffed with ground turkey, spinach, artichokes and feta.

Top Review by qbrrt
Made the filling the same, but don't have the money to get phyllo dough just for this recipe so i used reduced fat crescent rolls. came out great! my boyfriend loves them! made so much filling that the next day made up a sauce with it and served it over noodles, also loved. thanks!

**also left out the olives, don't like them
Sauté garlic in a couple tsp olive oil on low heat. Mix ground turkey with Worcestershire sauce, salt, pepper, spinach and 1/4 of the feta cheese. Mix to incorporate.
Add the meat mixture to garlic and cook; add the olives 1 minute before removing meat from heat.
Allow to cool.
Chop the artichoke hearts; add to cooled mixture along with remaining feta.
Cut phyllo pastry in to wide strips depending on desired size (Keep under moistened towel while working).
Combine melted butter and EVOO.
Add some paprika for color if desired.
Brush phyllo with butter/olive oil and keep layering till 4 or 5 sheets.
Spoon in mixture and fold phyllo in triangle flag fold.
Place face down on baking sheet.
Sprinkle with Some Zattar or Adonis seasoning or some sesame seeds.
Bake @375 15-20 minutes.