Ground Turkey Paprikash and Macaroni
Boomette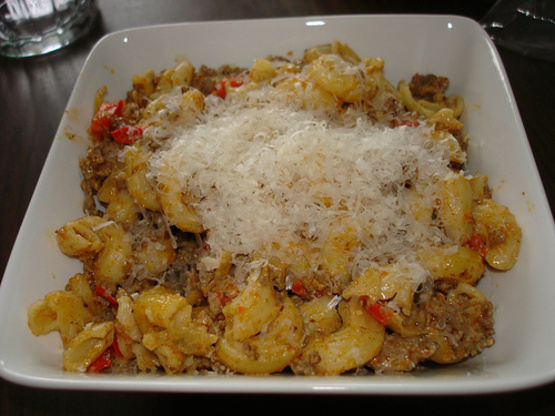 Great Goulash by Rachael Ray

This is a regular in the rotation at our house. Although, the first time I made it I found it to be a little bland, but that was an easy fix. A little shake of some season salt & a couple dashes of cayenne pepper and you're good to go!
Bring a pot of water to boil add pasta and salt.
Cook pasta 6 minutes to al dente.
Heat a deep skillet over medium high heat.
Add extra-virgin olive oil then butter then ground meat and brown.
Add garlic, onions, red bell peppers and seasonings to the turkey.
Cook 5 or 6 minutes then add chicken stock and sour cream to the pan.
Bring to a boil and reduce heat to low.
Add cooked pasta and stir.
Let pasta absorb some sauce, a minute or so.
Adjust seasonings and serve.
Garnish the prepared dish with chopped parsley.