Ground Turkey and Rice Soup
Meli6156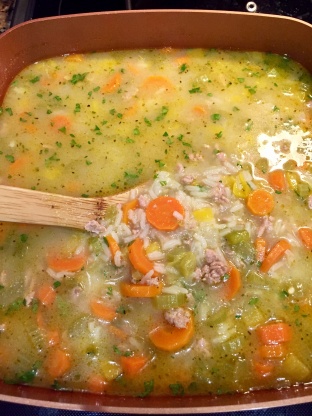 I came up with this recipe by simply wanting a yummy, healthy soup with what I had in my fridge... added a little of this and that... and now I make it all the time!
Chop up all vegetables.
Saute ground turkey in the pot sprayed with Pam.
Spice turkey with season salt, pepper, cumin, garlic, and a little chili powder. Begin to brown.
Add vegetables and saute for 2 - 3 minutes.
Add can of green chiles and saute another 2 - 3 minutes.
Add 4 cups of chicken stock and 4 cups of water, and bouillon, and bring to a boil.
Once boiling, add rice.
Add a little more seasonings if desired.
Bring back to a boil, and then simmer for approximately 20 minutes or until the rice is tender.
Remove from heat and enjoy!