Parsley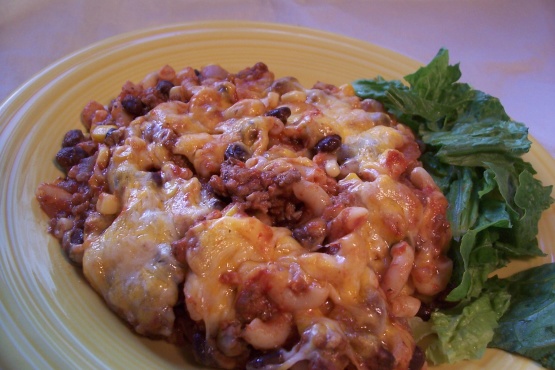 With the Corn, Black Beans and Cheddar Cheese, this resembles Tex-Mex, Add jalapenos or green chiles if you like, very versatile. We have lots of elk in our freezer and I'm trying to come up with recipes to use it up. I hope you like it!
Preheat your oven to 350 degrees.
In a Large dutch oven Brown Elk, onion, garlic and green pepper in your skillet with 1 tablespoons Olive Oil until fully cooked. Drain the meat mixture and rinse with hot water, this helps remove any "game" taste your meat may have.
Return to your pot and season with salt and pepper. Add in the tomatoes, corn, beans, cooked pasta, and chili powder. Mix well.
Top with shredded cheese.
Bake at 350 degrees for 35 minutes until cheese is melted and it's hot through.