KateL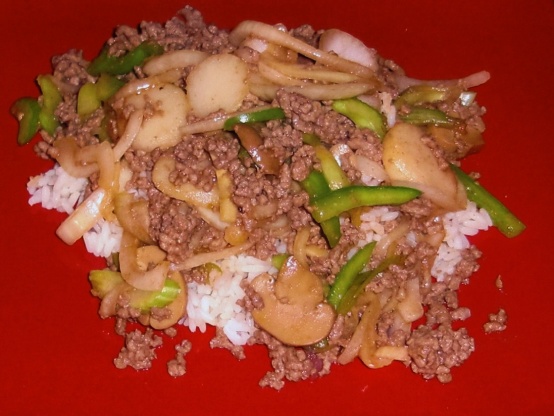 This is one of DH's faves. I have cooked this many times for company and get raves. It looks like a lot of work, reading the recipe, but it is easy easy. We don't like water chestnuts or bamboo shoots, so I omit them. I have had this recipe forever, but it looks like I must have found it on an A.1. bottle or ad. I tried it with other steak sauces, but we didn't like it. The recipe says 8 servings, but the 2 of us finish it off with no trouble.
This was interesting. Not really what I was expecting, but there was nothing wrong with it. It is a bit salty though, and it doesn't taste like authentic Japanese sukiyak (which is what I was expecting). The salt is definitely unneeded- good thing I didn't add it. I might make this again with some changes. The meat mixture might also make a good filling for lettuce wraps.
In large skillet, brown beef until crumbly.
In small bowl, mix sugar, soy sauce, A-1, and salt.
Set aside.
Drain mushrooms, reserving liquid.
When meat is cooked, mix in vegetables.
Add sauce.
Simmer 3 minutes, or until vegetables are just tender crisp.
Combine cornstarch and reserved mushroom liquid.
Stir into sukiyaki.
Cook just until thickened.
Serve over rice.