Ground Beef Stuffed Green Bell Peppers With Cheese
SharonChen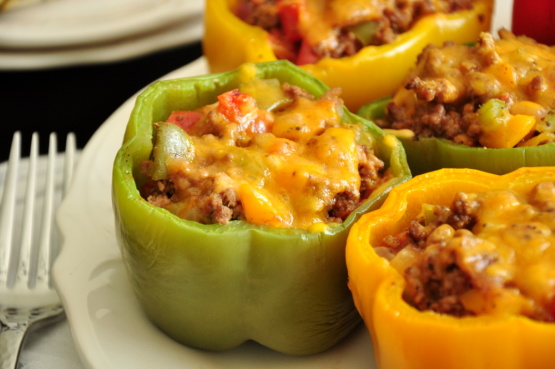 We had these not too long ago and we both decided that they needed a little more seasoning. We put a little hot pepper sauce on them and they were much better. I would probably include 2 teaspoons in the meat mix the next time that I make them.

Loved the recipe, but had to change up a bit. Next time I will pre-cook rice, (rice was not thoroughly cooked), and add corn. I added 8-oz. tomato sauce, 1 tsp. garlic powder, 1 tsp. onion powder, 1 tsp. Italian seasoning, 1 tsp. sugar, 3 tsp. of worcestershire sauce, topped with Italian bread crumbs. Yum !!!!
Cut off the tops of green peppers; discard seeds and membranes.
Chop enough of the tops to make 1/4 cup, set aside.
Cook the whole green peppers, uncovered in boiling water for about 5 minutes; invert to drain well.
Sprinkle insides of the peppers lightly with salt.
In a skillet cook ground beef, onion and 1/4 cup chopped pepper till meat is browned and vegetables are tender.
Drain off excess fat. Add drained tomatoes, salt, Worcestershire, and a dash of pepper.
in a separate pot put water bring to boil add rice cook until rice is soft. if needed add more water.
add rice to beef mixture.
Stir in cheese. Stuff peppers with meat mixture. Place in a 10x6x2 baking dish.
Bake, covered in a 350 degree oven for 30 minutes. in the last 5 minutes add any remaining cheese to the top of the peppers.