Ground Beef Stuffed Green Bell Peppers
Derf2440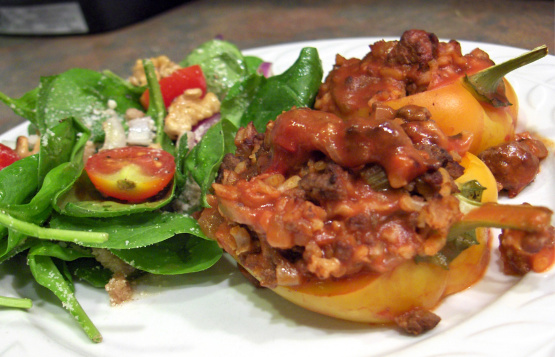 Green peppers stuffed with Lean ground beef, onions and Celery. Tip: You can blanch the peppers in boiling water for 3 min and freeze them for later use.

Top Review by ejriii
This simple little recipe formed the basis for a really wonderful dinner. I omitted the salt and substituted garlic powder for garlic salt. I also used a 10 oz can of Rotel diced tomatos with peppers instead of the tomato sauce. I added 1/4 lb of Portugese chourico and a dash of paprika. Really splendid spicy dish as a result.
Heat the oven to 350 degrees F.
Cut each bell pepper lengthwise in half.
Wash the insides and outsides of the peppers after removing the seeds and membranes.
Cook the peppers in the boiling salted water for 5 minutes then drain and set aside. Cook and stir the meat, onion and celery in a large skillet until the meat is brown.
Drain off the excess fat. Stir in half of the tomato sauce and the remaining ingredients, heat to boiling then reduce the heat and simmer, covered, for 5 minutes.
Place the peppers, cut sides up, in an ungreased baking pan 9 X 9 X 2 or 8 X 8 X 2-inches.
Spoon the meat filling into each of the pepper half evenly and then cover the pan with aluminum foil.
Bake for 25 minutes then uncover and top with the remaining tomato sauce and bake an additional 5 minutes.