Ground Beef Shepherd's Pie
ErikaNY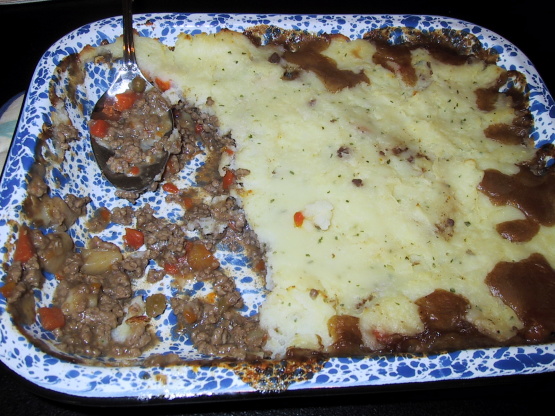 I grew up on this delicious comfort food - it was one of my favorite meals. Now I make it for my husband and myself! The nice thing about this recipe is you can fit it to your own likes. Instead of mixed vegatbles, you can use a can of corn, peas... or half and half! Mom always did peas and corn, I prefer mixed vegetables. Enjoy!

Saw Rachel Ray make this, but she made a rue by adding flour to the ground beef after it was cooked, then adding beef stock to create the gravy. I use frozen mixed vegetables for crisper more flavorful vegetables than canned. Gordon Ramsey made a shepherd's pie using lamb on one of his shows and added cheddar cheese to the mashed potatoes...it really adds good flavor to the overall dish.
In a large skillet, cook the beef, onion and garlic over medium heat until meat is no longer pink; drain.
Stir in the gravy, vegetables, worcestershire sauce, salt and pepper.
Transfer to a 1 1/2 quart baking dish.
Spread mashed potatoes over the top.
Bake, uncovered, at 350 degrees for 25 minutes or until heated through.
When serving, place 'spoonful' of gravy on top of each individual portion.