Leslie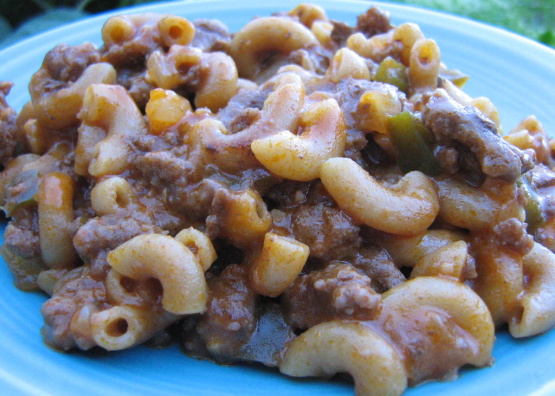 My son loves this recipe and even ask for it for his birthday supper. My own recipe and I call it goulash. Very tasty and rich.

Delicious recipe. I have made this many times now, and have developed a few changes. The 3 Tbsp. of soy sauce made the goulash a bit too salty for us, so now I only add about 1 Tbsp. I also use a can of tomato sauce, rather than tomato soup. I use a box of macaroni and cheese for the pasta and add in the powdered cheese, instead of Velveeta (less fat). Thanks for the great recipe!
Brown beef and drain the fat.
Add bell pepper, onion and garlic, salt (go lightly) the soya sauce is very salty and pepper to taste.
Add tomato soup and water, soya sauce.
Put lid on and simmer for 20 minutes.
Then add a little more water and rice OR elbow macaroni.
Simmer with lid on for 15 minutes,stir.
Add parmesan cheese, Velveeta cheese to the top (don't stir).
Take off stove and keep lid on until cheese melts.
Serve with garlic bread and tossed salad.