Leslie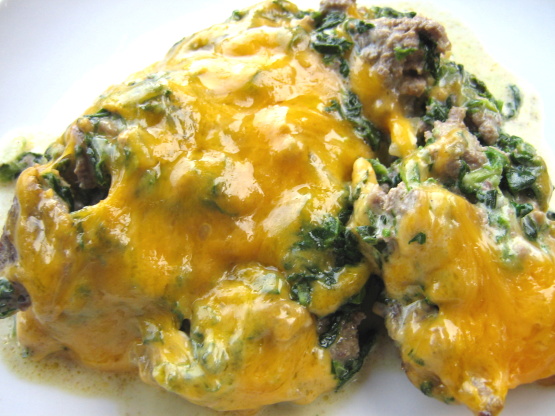 All that I can say is that I tasted this at a pot-luck buffet dinner, and it is WONDERFUL!!!
Preheat oven to 350 degrees. Spray a large baking dish with nonstick cooking spray.
In a large skillet, brown the ground beef and onion. Add the spinach, garlic powder and dry mustard, and cook until the meat is done.
In a large bowl, combine the softened cream cheese, heavy cream, Parmesan, nutmeg, salt and pepper to taste and mix well.
Combine the cream cheese mixture and the meat mixture in the large bowl.
Spoon the entire combined mixture into the large baking dish. Top with the 4 or 6 blend shredded cheese.
Bake, uncovered, for 30 minutes or until bubbly and slightly golden browned.