Ground Beef & Cabbage Stew
Karl S.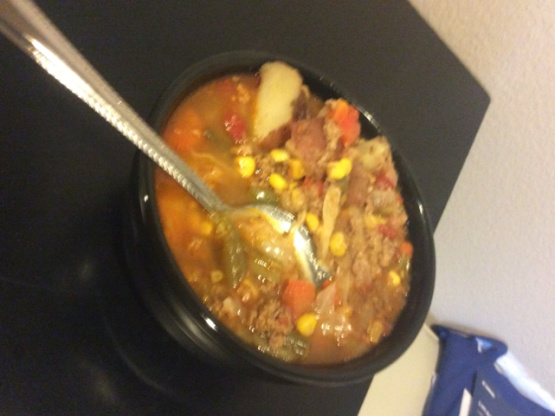 One day I made this stew for myself (God forbid the kids ever put cabbage in their mouths)They(the kids) accidently ate it mistaking it for my beef stew. They called me on my cell phone and told me that was the best stew I had ever made. I just let it be my little secret about cabbage.

Yummy! It could be spicier than the spicy option, but this pulled together very nicely and tasted great. And it didn't have the cabbage-y smell, even left over, to dissuade anyone else. Almost every recipe I find online, I need to double the veggies (or halve the meat) at least once to get it the way I like it, but not this one!
Brown ground beef and drain;set aside.
Heat olive oil in skillet and add onion and cook 2-3 minutes.
add cabbage, tomatoes, potatoes, carrots, bell pepper, thyme.
Mix well.
add broth.
Heat to boiling; reduce heat.
cover and cook 20 minutes.
stir in corn and beans.
cover and cook 15 minutes.