Ground Beef Au Gratin Potatoes With Vegetables
Debbwl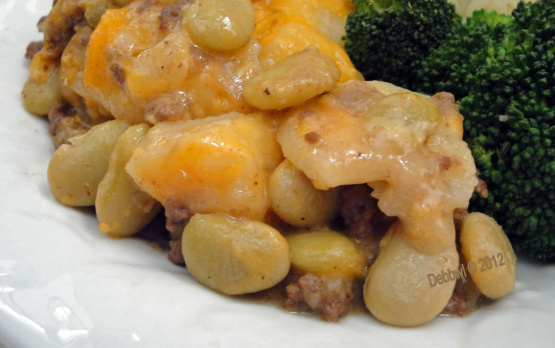 I had leftovers from Bill Knapp's Au Gratin Potatoes,and didn't just want to heat them up and use them as the same side dish. So, I cooked up ground beef with onions,and seasonings. Added some leftover veggies and came up with what I think turned out to be a pretty good recipe. Submitted to Food.com (a.k.a. " ZAAR " )on January 3rd.2012

Top Review by Debbwl
Call me weird if you like but lima beans are on my comfort food list. Therefor lima beans coupled with cheese, onions, potatoes and beef into a casserole spells comfort food to me which it was. As I know CS to be the leftover queen figured she would not be offended that my ingredient portions may have been a bit off as I did not measure anything went with what I had such as a whole pound of beef, half a small onion and 1 1/2 cups canned baby lima beans as I did not have any leftover. We really enjoyed this and am sure we will be enjoying again. Thanks for the post.
Preheat oven to 350 degrees, and lightly grease or spray a 1 1/2 quart baking dish with cooking spray.
Add beef,onion, and seasoning to a large skillet and over medium heat, cook meat until no longer pink.
Drain, and return meat to skillet.
Add potatoes and vegetables to meat,stirring well to combine.
Place mixture into prepared pan, and sprinkle with cheese.
Bake for 30 minutes or until bubbly and cheese is melted.