Ground Beef and Spinach Pasta Bake
Janni402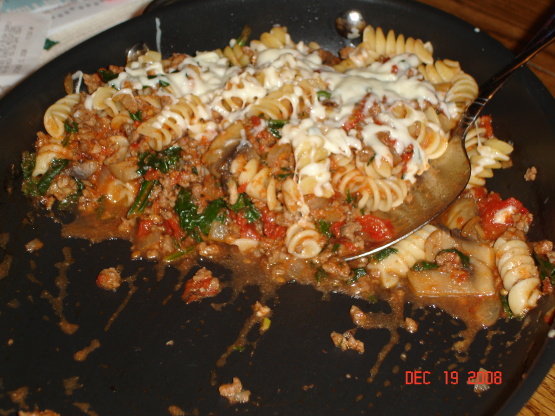 I was surprised at how few recipes there were on here for ground beef and spinach with pasta, aside from lasagna and manicotti, so I made this up one night.
Saute the onion in a deep frying pan for 1-2 minutes, then add the ground beef.
Cook until beef is browned, then add the tomatoes, spices, salt and pepper to taste.
Simmer for 3-4 minutes, then add the spinach and simmer 3-4 minutes more.
Adjust seasonings to taste.
Meanwhile, boil and drain the pasta according to directions on the package.
Combine the two and place in a baking tray.
Sprinkle the cheese over the top and bake in a hot oven until melted and the dish is pipping hot, about 5 minutes.
Serve with a salad and garlic bread.