Ground Beef and Sausage Pie (Pastry or Potato Topped)
VickyJ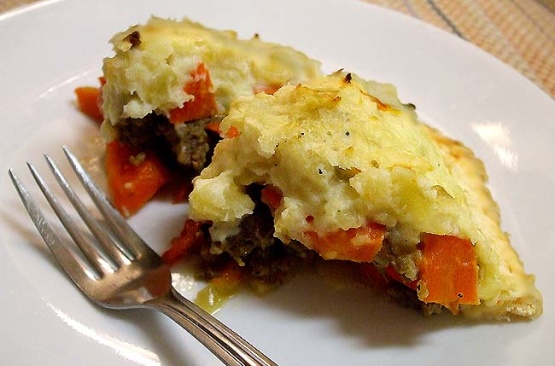 This can also be topped with cooked mashed potatoes instead of the pastry, the filling can also be made in one 10-inch deep-dish pie plate topped with pastry instead of a casserole dish. If you are topping this with mashed potatoes then bake in a shallow baking dish instead of a casserole dish. Prep time does not include preparing the pastry. This is really good!
I rated this based only on the meat mixture, because I used puff pastry instead of pie crust or potatoes. If I ever do make this again, I'll use pie crust. However, the meat mixture may have been better if I had celery, which I was out of and didn't realize it until I was well into preparation. I substituted some green beans. So, I probably shouldn't have even rated this because I didn't really follow the recipe. However, I think those small changes didn't make that much difference. The basic mix of meat and veges is your typical soup combo. While I was generous with the Parmesan, it could have taken even more. The chili pepper flake amount was about right for my taste, but more would have been OK because I used mild sausage. If you use hot sausage, don't increase the red pepper flakes. I think there is something missing from this. Maybe a bay leaf in the meat mixture while it simmers would be good? I doubt I'll make it again, mainly because it took me 40 min. just to gather and prep all the ingredients. Trip to the freezer, trip to the pantry, chop the onion, open all the cans, thaw out the meat, chop the other veges, soften the butter. . . Yup - 40 min.
Set oven to 350 degrees.
Grease a round or oval baking dish.
In a large skillet brown the ground beef and Italian sausages with dried chili flakes, onion, garlic, celery, Worcestershire sauce and carrots until the ground beef is no longer pink (about 10 minutes) drain fat.
Add in grated Parmesan cheese, sliced mushrooms and corn; mix to combine.
Add in the broth or consomme; simmer for 15 minutes.
Season with salt and black pepper to taste.
In a small cup whisk together 2 tablespoons soft butter with the flour and add into the simmering mixture; stir with a wooden spoon until thickened.
Transfer the mixture to prepared baking dish.
Top with prepared pastry leaving 1-inch overhang, turn the edges under and press firmly to the inside of the dish, then flute.
Cut slits in the top to allow steam to escape.
Bake for about 35-40 minutes or until the pastry is browned and the pie is bubbley.
Let sit 15 minutes before serving.