Tom H.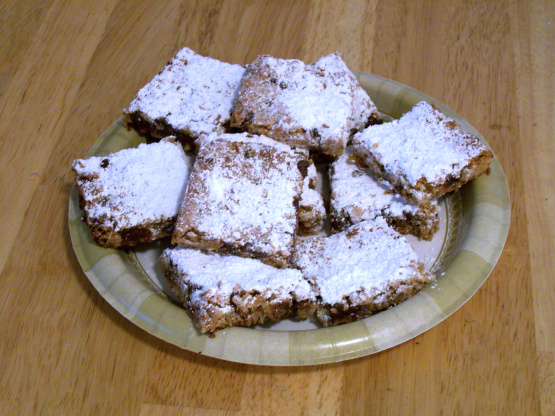 These are so good! I got this recipe from a magazine and the name intrigued me, as well as the ingredients. It is just the right combination of chocolate and chewy. You gotta try them. So easy and so good.

These are out of this world! I mean it! They taste like they were made by a professional chef, NO KIDDING! I halved this recipe and made these several weeks back for my friends who had come over to celebrate my 2nd Zaar anniversary ! These cookie bars are very addictive!! I did not have semisweet chocolate chips, so, I used a little over 1/2 cup of Galaxy chocolate, grated(Galaxy happens to be my all-time favourite!). These took exact 18 minutes to bake in my preheated (at 350F)oven. Once baked, I removed the baking pan from the oven and only 30 minutes after doing so, I removed the cookie bars from the pan. Then, only after allowing them to cool completely on a wire rack, I served them. They vanished before I knew it;) The most vital information in this recipe is the quantity of Graham cracker crumbs in cups. I would have made a mistake had you not mentioned 2 cups. Since I had halved this recipe, I used an exact 1 cup of powdered(in my mixie) Graham cracker crumbs. UPDATE: I have also made these using Lindt white chocolate instead of semi-sweet chocolate chips because the latter is very expensive plus not easily available in my part of the world. Anyways, these have come out very yummy and delicious; so, I'll be calling these "YummyLicious easy bars" from now on;)!
Combine all ingredients except icing sugar; mix well (batter will be thick).
Pat into a greased 13x9-inch pan.
Bake at 350°F for 20-25 minutes.
Do not overbake.
Sprinkle with icing sugar.
Cool and cut into squares.