Grilled Zucchini & Yellow Squash
gertc96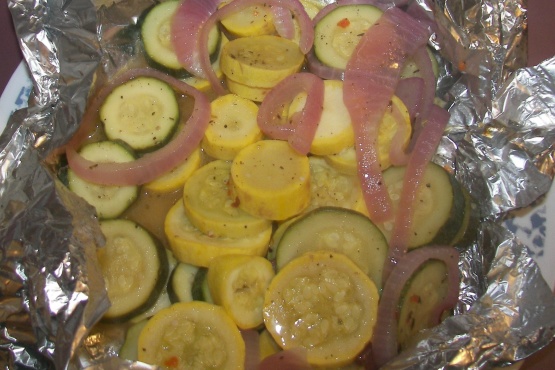 We look forward to each summer when our garden is in full swing. I think you will all love this one.

Talk about simple and delicious! Yum! I made this just as directed, leaving out the italian seasonings, and it was wonderful. I will definitely be making this again while it's still grilling weather! Thanks, dcmac! UPDATE: I have made this many times! I now use fat free zesty Italian dressing and only about 1 Tbsp of margarine.
2

small potatoes, thinly sliced

1 -2

medium zucchini, thinly sliced

1 -2

medium squash, thinly sliced

1

medium onion, thinly sliced

2 -4

tablespoons zesty Italian dressing
1⁄4 teaspoon italian seasoning (optional)
salt and pepper

2

ice cubes

2

tablespoons butter
sour cream (optional)
Preheat grill for 10 minutes.
Arrange potatoes, zucchini& squash, alternating each on 24x18 inch double thickness of heavy-duty aluminum foil.
Place onion rings over the top of vegetables.
Sprinkle Zesty Italian dressing over the top.
Sprinkle with salt, pepper and Italian seasoning.
Slice the butter into thin slices and lay over the top.
Add ice cubes.
Wrap tightly (a drugstore wrap).
Cook at medium with hood closed until vegetables are tender, 20 to 25 minutes, turning package on its side half-way through cooking.