Grilled Zucchini With Caprese Salsa
Boomette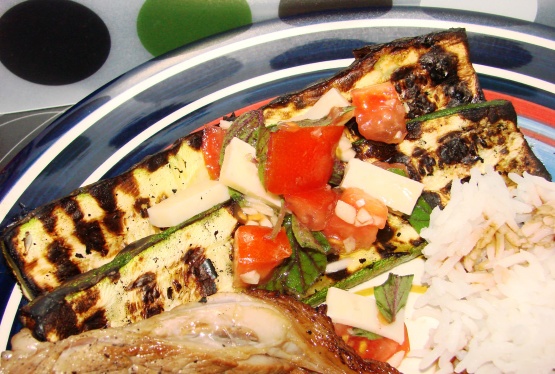 Third recipe submitting for a nice Zucchini light snack or side dish.

Wow! We really LOVED this recipe. Grilled the zucchini on the barbecue and served the topping on the side. The flavours went together so brilliantly. The only thing I would change (which was my fault in the preparation) would be to leave the topping out of the fridge to get to room temperature before serving so it complements the warm zucchini. We'll be making this very regularly through the summer season. Thanks for a winner! Made for PAC 2012.
Preheat grill pan over medium-high heat.
Arrange zucchini in a single layer in a pan, grill 4 minutes, turning after 2 minutes.
Combine tomato, mozzerella,basil, and garlic clove in a bowl.
Add olive oil, and red wine vinegar to tomato mixture, stir gently.
Divide zucchini evenly among 4 plates.
Top zucchini with tomato mixture.