Grilled Zucchini and or Eggplant (Aubergine)
Rita1652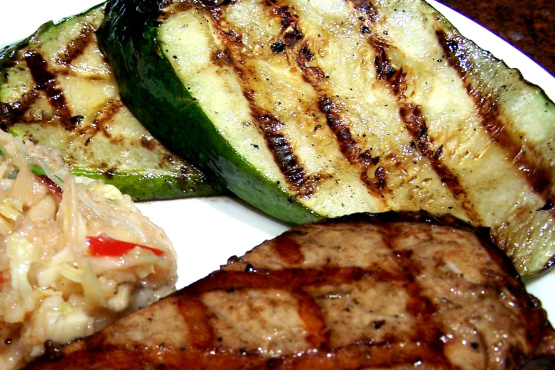 What to do with all that home grown zucchini? A great refreshing summer side dish. Eat hot or slice and throw into a cold pasta salad. Serve it in a grilled veggie sandwich. For example Chicken With Zucchini and Roasted Pepper Wraps Chicken With Zucchini and Roasted Pepper Wraps

The flavor of these were great. I used charcoal that was at about 200 degrees on the grill when I used it, and it needed to be warmer than that. They still tasted great, but were a little mushy from the longer cooking time. I also didn't have any fresh cilantro, but still tasted great. I also added a little bit of pepper flakes. Another great recipe, Rita!
Slice zucchini in lengthwise into four slices.
Mix oil, pepper, garlic, and oregano.
Rub with oil mixture.
Let marinate for about 30-60 minutes.
Place zucchini on hot grill.
Grill until browned.
Remove from heat.
Mix lime juice and cilantro together.
Sprinkle with lime juice.
Season with salt to taste.